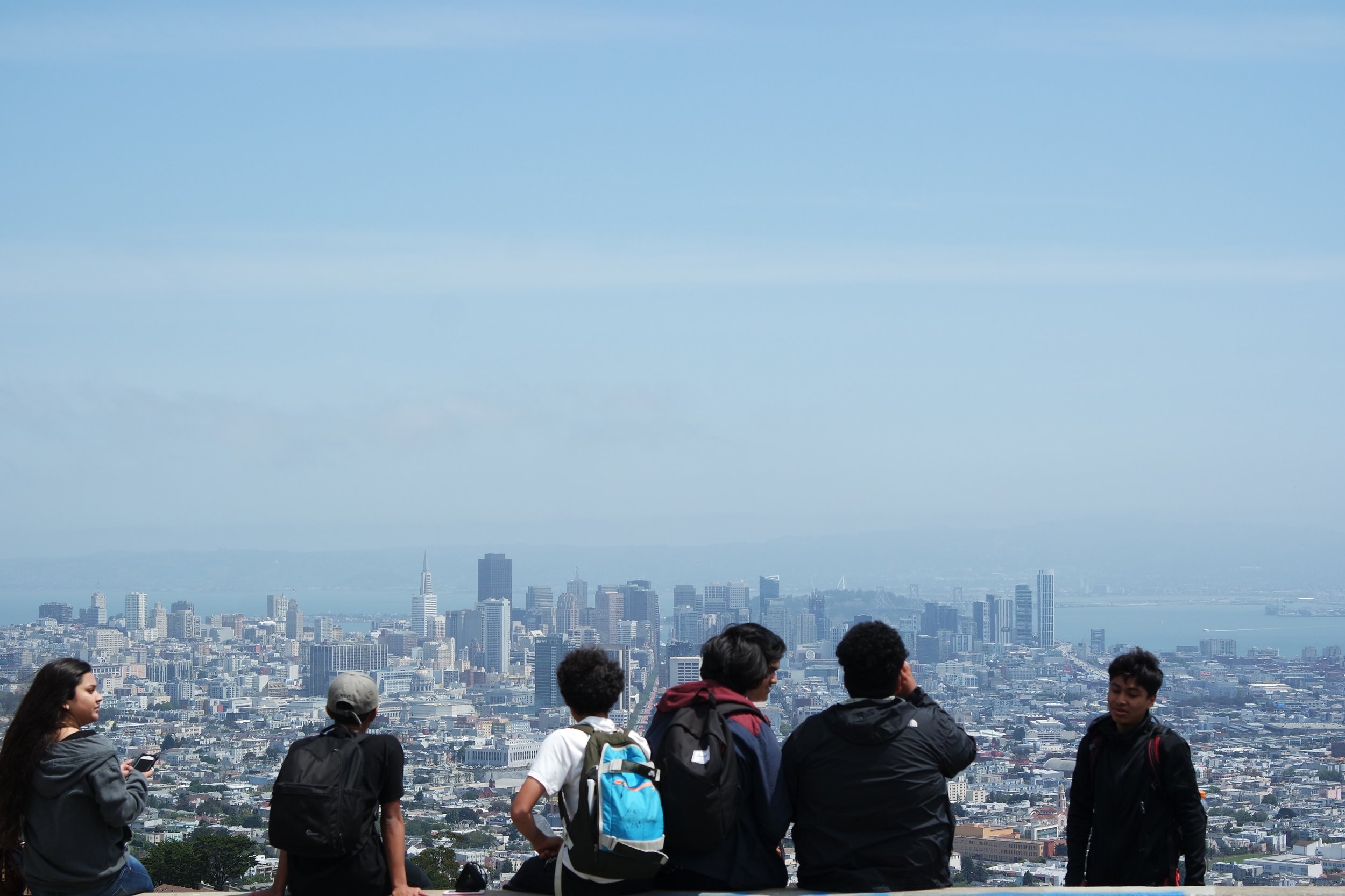 Academics & performance Assessment
Academic classes at JJSE are challenging, rigorous, and relevant to our students and their communities. We expect all students to meet university entrance requirements and take college prep coursework. However, we also believe that teaching leadership skills and activism skills is important in our current context. We pride ourselves on integrating self-empowerment through content knowledge and student leadership.
In order to hold students and teachers accountable to high performance standards and to mirror expectations by which people are assessed in college and in the workplace, June Jordan School for Equity has developed a research-based performance assessment system. This system provides students with multiple forms of access and is an authentic way for teachers and students to develop and assess learning collaboratively as well as engage with the broader community.
The JJSE performance assessment system is designed to generate real, public accountability for student performance and includes the following elements:
portfolios of student work

rubrics that embody acceptable standards of performance

oral presentations to a committee

opportunities for revision

integration with everyday curriculum and classroom practice

capstone projects and exhibitions
The system is organized around six "Habits of Mind" that connect to 20th Century Learning, future college success, and the Common Core Standards: 1) Perspective 2) Relevance 3) Original Research 4) Precision 5) Evidence 6) Logical Reasoning (leading to the acronym "PROPEL").
Teachers in each core subject area department (Math, Science, English, and History) are required to integrate the Habits of Mind into their curriculum and assign one or more major project-based assignments per semester. Each student is required to produce a portfolio project as a summative assessment in each class. In spring of 10th and 12th grades, students must present and defend their projects (capstones) to a committee which includes teachers, parents/guardians, peers, and community members. This portfolio process is a graduation requirement that was approved by the SFUSD Board of Education in 2008.
Advisory
All students are part of an advisory; a small and intimate group of students with 1-2 teachers who serve as their support system at school. The student's advisor is their primary home contact and implements student-led conferences twice a year. In the 2017-18 school year, the school divided advisories into grade-level specific groupings to better serve students in age-appropriate ways.
9th grade: The 9th grade Academy that serves to integrate them into the school community. 9th grade teachers intentionally teach students about social justice, health and wellness, and study skills.

10th grade: The 10th grade advisories concentrate on community service, the RICH values and start to do development work on college/career readiness.

11th grade: The 11th grade advisories integrate rigorous academics with a strong Internship program and career readiness skills.

12th grade: The 12th grade advisories support students in college access, financial aid, development of the senior capstone.
*In all grade levels, health and wellness, college and career, and student culture are scaffolded throughout the students' four years.
Electives/Activism Blocks
Although JJSE is a small school and therefore does not offer the same breadth of courses as larger high schools, we do have a rich series of elective courses students may choose from. Specific electives vary from year-to-year depending on student interest and staff capacity. Below is a list of electives planned for the 2018-19 school year:
Yoga and Wellness

PE - Strength and Conditioning for athletes

Soccer

Makers

Urban Gardening and Food Justice

Cooking and Food Justice

Music Production and Songwriting

Art and Activism

Digital Media/Small Business

Computer Science/Coding

415 Unidos: Immigration Rights
Extended-Day Program
The June Jordan Extended-Day Program (EDP) provides a wide array of opportunities for our students to develop the essential skills needed for both academic success and personal growth. Our free program integrates youth development principles and practices to ensure quality programming in a safe and supportive environment. The following are available every day in the EDP program until 6pm.
Academic tutoring and support

What Works Club (Student club that is trained to give feedback to teachers)

Art

Spoken Word & Poetry

Young People's Project (YPP) - a youth-led math leadership program
intersession
JJSE's Intersession is comprised of three weeks of experiential learning courses where students learn by doing and actively engage in a variety of real-world experiences that challenge them physically, emotionally, intellectually, and spiritually. Conducted outside of the four walls of the traditional classroom, these intensive courses create an opportunity for students to interact with adults and community members in new ways as they become immersed in unfamiliar environments, attempt new activities, or pursue longstanding passions in a more in-depth way all over the Bay Area. Students visit locales such as Yosemite, Santa Cruz, Alameda, Marin, and Camp Mendocino to hike, bike, run, dance, place soccer, or do yoga. It is during Intersession that students most often learn about their personal limits, their capacity for growth and what they are willing to do to overcome obstacles.
SPORTS
Jaguar Athletics is a small but strong program where students can come together to develop themselves as scholar-athletes. Students from our neighboring school City Arts and Tech High School play on Jaguar teams along with June Jordan students.
We hold sports during the Fall, Winter and Spring. The following sports are available at June Jordan School for Equity:
Boys Varsity Soccer (2018 City Finals),

Girls' Varsity Soccer

Girls' Varsity and JV Volleyball

Boys' Varsity and JV Basketball

Wrestling (co-ed)

Boys' Varsity Baseball

Track and Field (co-ed)
wellness center
The Wellness Center at June Jordan School for Equity believes that student wellness is a cornerstone for learning and success in school. We are dedicated to improving the health, well-being and educational outcomes of all students.
The program is one of fifteen sites funded by the San Francisco Wellness Initiative. We provide free, confidential services to students, including health education and assessment; mental health and substance abuse counseling; support and empowerment groups; crisis intervention; and reproductive health services. In addition, we bring community-based organizations onto campus, provide students with referrals to public and private health providers, and educate youth about resources and services available both on and off campus.
Our staff is available to address immediate student health needs and to strengthen our students' capacity to make healthy choices throughout their lives. We also promote a healthy school environment by supporting staff and faculty involvement in health issues. This comprehensive approach to addressing school health is proving successful. Since opening the program office, we have witnessed measurable improvements in individual students' health and well-being, as well as the overall campus environment.
PHOTO CREDIT: MARCUS HUNG